Iowa Beef Center Introduces New Heifer Development Program
on
September 19, 2017
at
10:51 am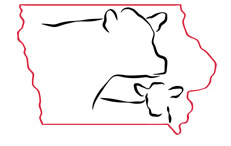 AMES, Iowa – Iowa's new heifer development program, Iowa Cowmaker Elite (ICE), is officially underway! ISU Extension and Outreach beef specialist Patrick Wall is the ICE program coordinator. He said the intent of the long-term project is designed to help Iowa's beef producers select, manage and develop high quality heifers year after year.
"Information from ICE females will be compiled and utilized for constant improvement in Iowa's cowherd," Wall said. "These females will be selected for longevity and ability to thrive in Iowa's various environments, and in turn, will generate more desirable feeder cattle backed with reliable herd health, performance, and carcass information. "
The ICE program is a cooperative effort of the Iowa Veterinary Medical Association and the Iowa Beef Center at Iowa State University, with the end goal of aiding Iowa's cattle producers in building a more profitable and sustainable cow herd regardless of operation size or system.
"The educational component of this project is two-fold: help producers decide which heifers are the right ones to keep and breed, and then help them find the right bulls to use on those females," Wall said. "We want producers to set goals for their operation, then we'll teach them the visual indicators, the genetics, even which columns on the paper that will most likely get them there."
Heifers enrolled in the ICE program may be purchased or home-raised and developed at any cooperating central location or on-farm, he said. Entry fees for the ICE program include an annual membership fee of $25/owner and a $5/head fee for heifer enrollment. In addition, the owner is responsible for the cost of the ICE tag for females who graduate from the program.
Details of the program including program standards, health protocols, list of centralized development locations and contact information is on the ICE web page. An informational video on the program itself and the enrollment process also is available on that page.
Enrollment of your heifer calves is a simple process.
Visit the ICE page on the IBC website.
Download the ICE Data Entry file.
Print the program requirements.
Share the files with your local veterinarian to ensure the herd health protocols are met.
Fill in the columns chute-side as the heifers cross the scale.
Email the Data Entry file to Wall at patwall@iastate.edu
Producers will receive a detailed analysis of their heifers compared with others in the ICE program at each stage in the process: weaning, yearling, breeding and pregnancy check.
Source: ISU Extension